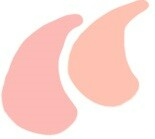 So, I was super screwed up!
Talk about having lived my life from wounded history!
I grew up in a family where abuse was normal. My mother was an alcoholic, my father was a narcissist and podophile. He then finally ran off with a younger woman.
I was the oldest and had to manage the household, my younger siblings, school and doing some extra chores in the neighbourhood to earn a little money. It was dreadful. I lived in constant fear, hiding money and alcohol from my mother.
It was all too much! My mother died quite young. The domestic violence from my father, together with the alcohol and mixing it with prescription drugs was the demise of my mother.
A friend recommended Geli to me. We have been
working
together on this for nearly a year.
At first I thought this EFT Tapping was really weird. Geli combines this with essential oils. Before meeting Geli, I had some therapy sessions from a typical psychotherapist, but I was still constantly getting triggered.
So the Tapping, the oils, the muscle testing and all that was completely nuts to me at the beginning, but it all worked relatively fast to my surprise.
I felt great after about three
months, but decided to have Geli
as an on-going accountability
partner for me to keep using all
those amazing tools.
I can't believe I'm the
same woman!"