My Little Urban London Kitchen
As you might know by now, I live in London. London is a great city, but like most large cities, homes tend to be very small ... unless one moves outside of London into some of the lush countryside.
In many ways, I am very blessed! I do have a little garden, when most homes here in London don't even have a balcony! I decided to give you a little insider view as an inspiration. It does not matter where you live, what matters is that you feed your soul with a nurturing environment that is totally you!
There are some of you who have magnificent, Zen inspired, large, super shiny kitchens. Which is great!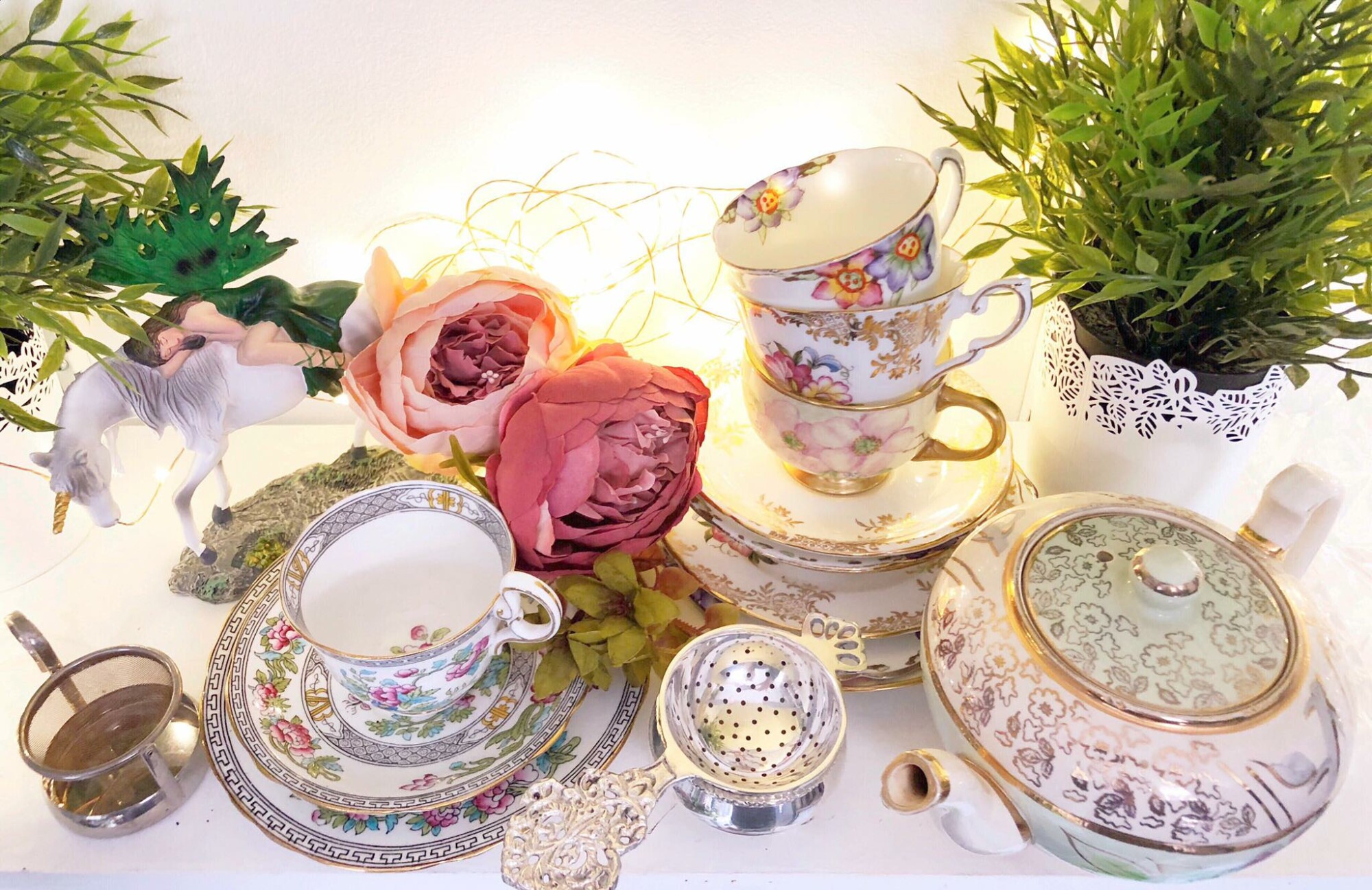 My home is whimsical, magical, fun, playful with fantasy, very small and cozy, and my kitchen likewise has a whimsical array of things I love. Cookbooks, especially international cuisine continue onto shelves under the ceiling and the hallway. Yeah, I treasure books of all sorts!
In my home throughout and of cause also in my kitchen, there are trailing plants, fairy lights (not very visible in these pics). Fairy and Unicorn, etc. The pictures here are a little bit of a "behind the scenes" from my home.
In some respects, I was inspired by quaint whimsical eateries in some side streets in Manhattan, New York.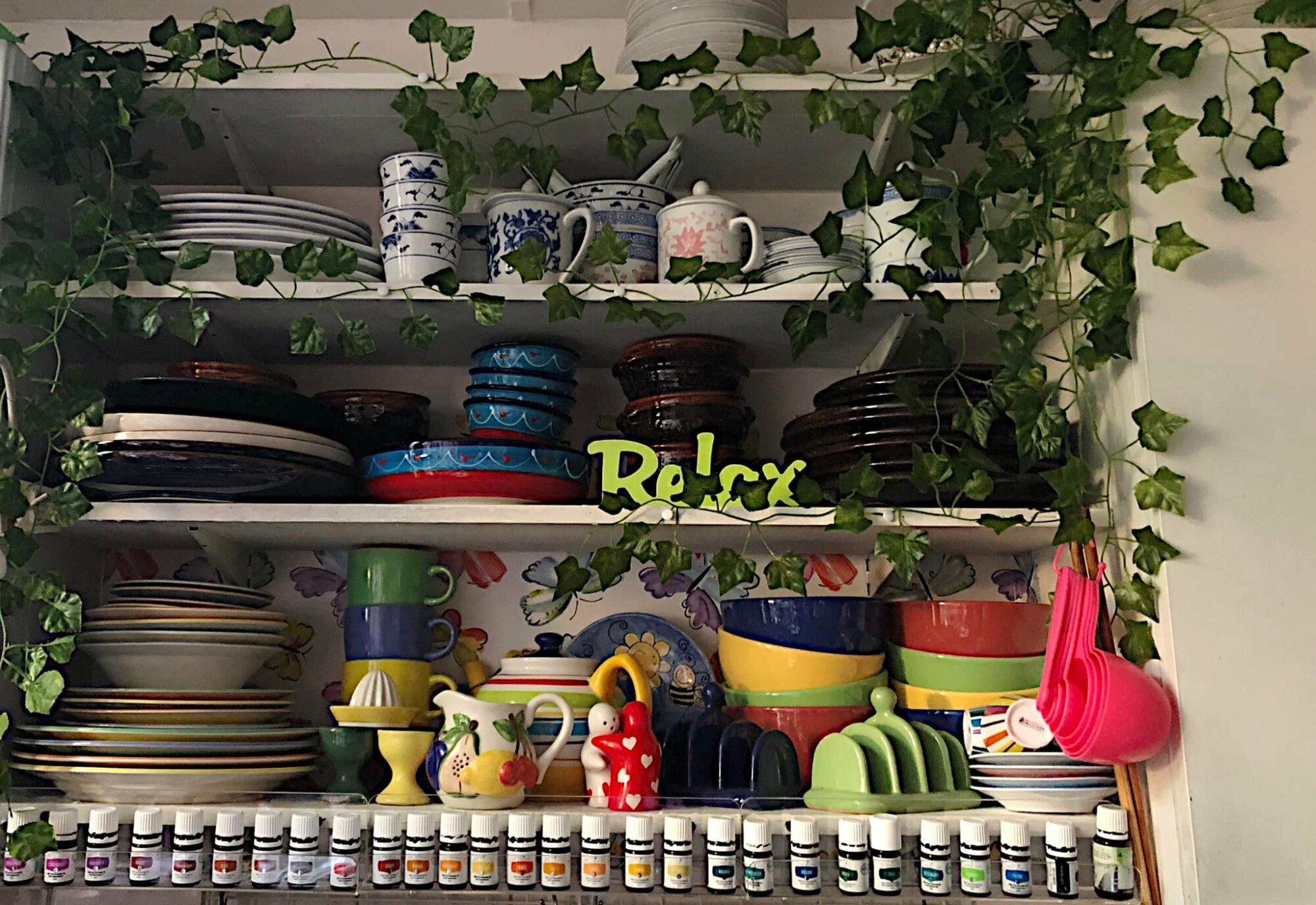 Those of you who have been there, know what I am talking about. You walk along what seems to be residential, then there are these relatively tiny places that appear to be home living rooms converted into café/bistro style eateries.
At lunch time these little places are quite packed with people who don't mind sitting at clean old little wobbly tables, but the food is fresh and outstanding.
Freshly made smoothies, fresh juices, ginormous fresh and super tasting green salad bowls with the most delectable freshly made dressings, etc.; the walls are graced with huge chalk board menus and vintage posters; ceiling fans and light background music create a buffering noise to private conversations. The atmosphere is cosy and inviting.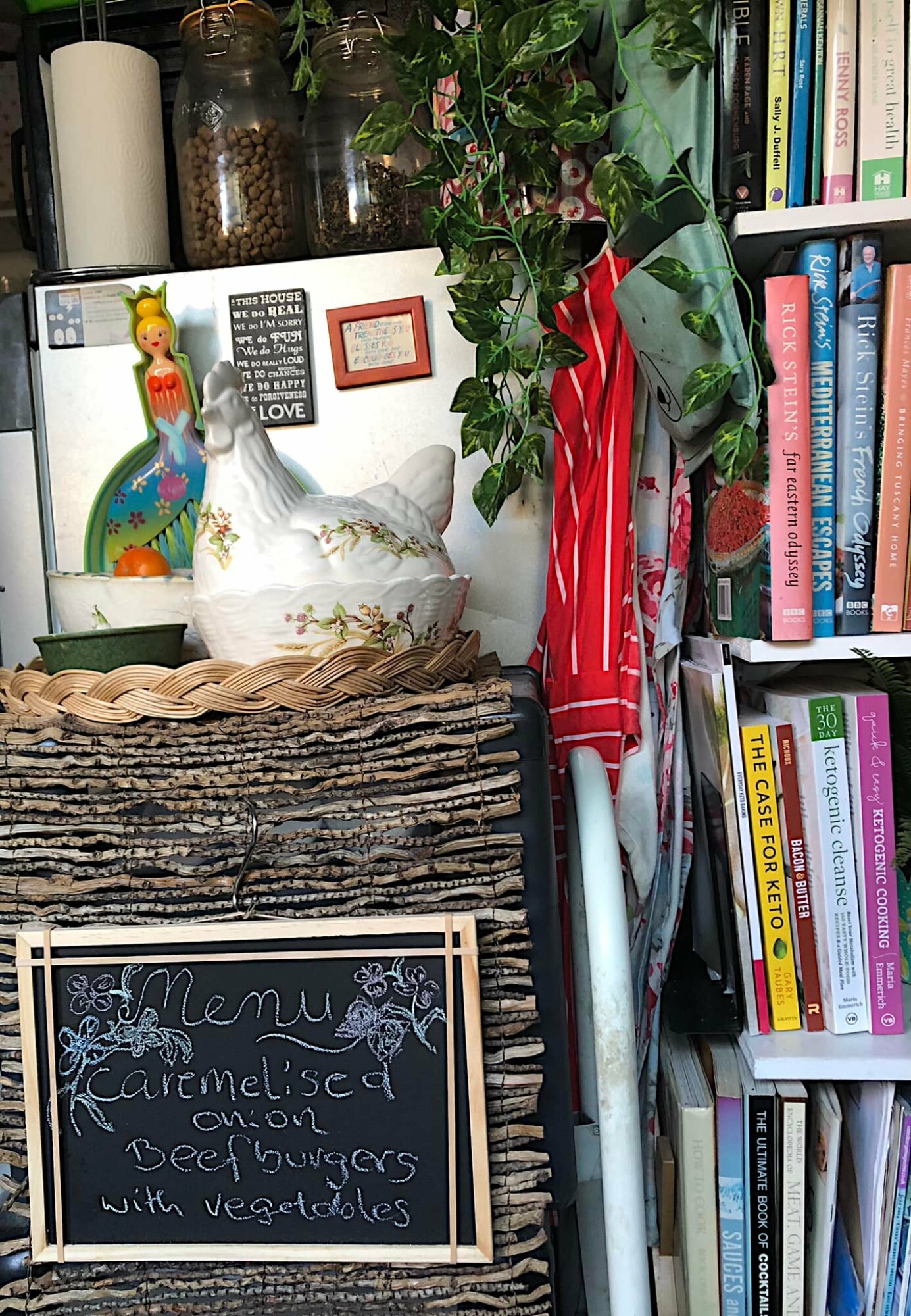 Whilst my whimsical and magic home and kitchen is uniquely 'me', I have to admit that I was influenced not by the grand places around the world I had the privilege to visit and experience, but by quaint places organically grown, packed with memorabilia, large and small art and artefacts, full of endearing, uplifting atmosphere that invite laughter, mystique, magical memories, and togetherness.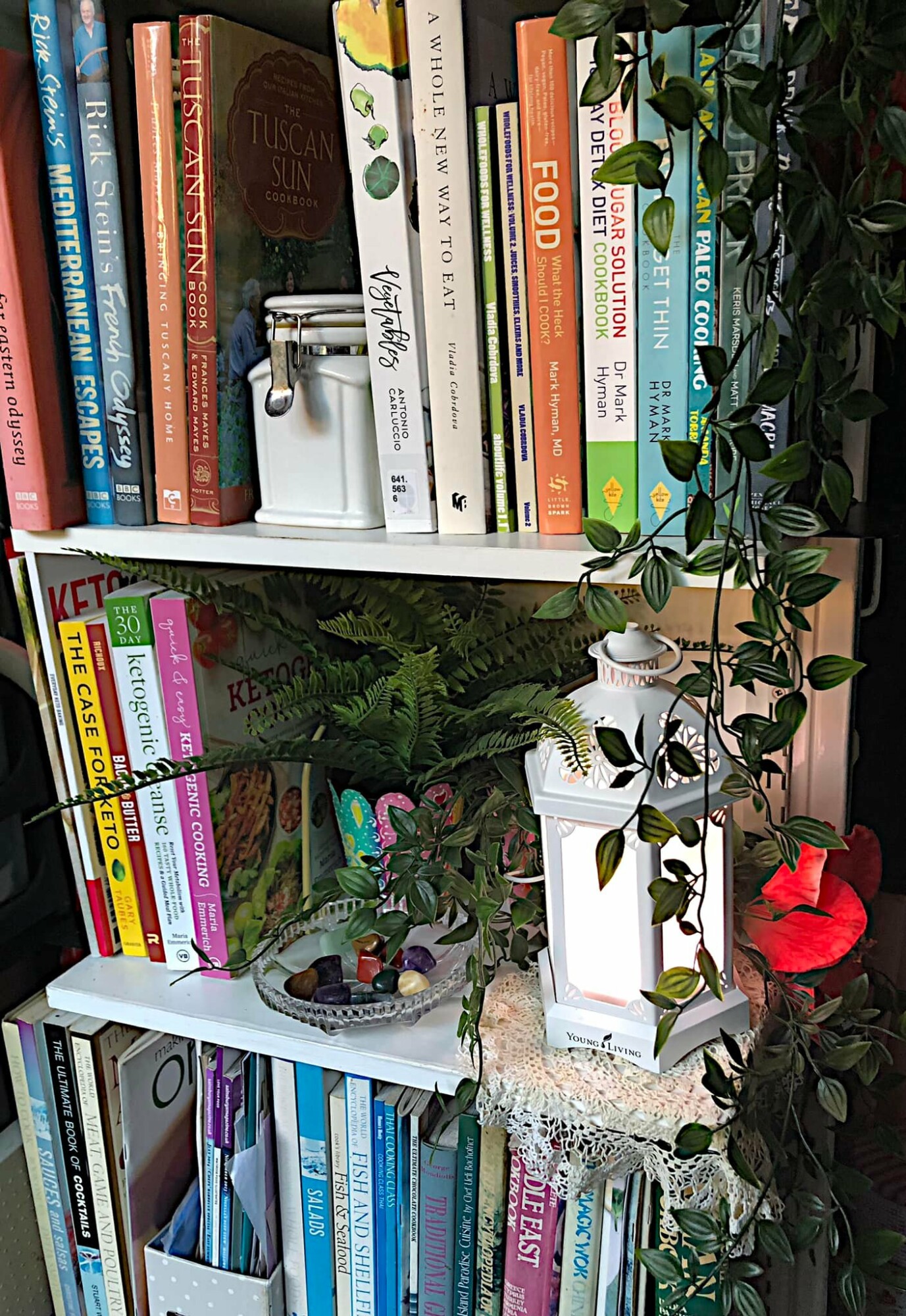 So, when you see photos of my food creations, they happen right here.
I decided some time ago that it does not matter if you live in a tiny urban apartment, or in a large farm style place, a cosy cottage or a super modern skyscraper, you can always be creative to express what you love and enjoy conscious cuisine and mindful eating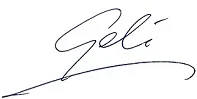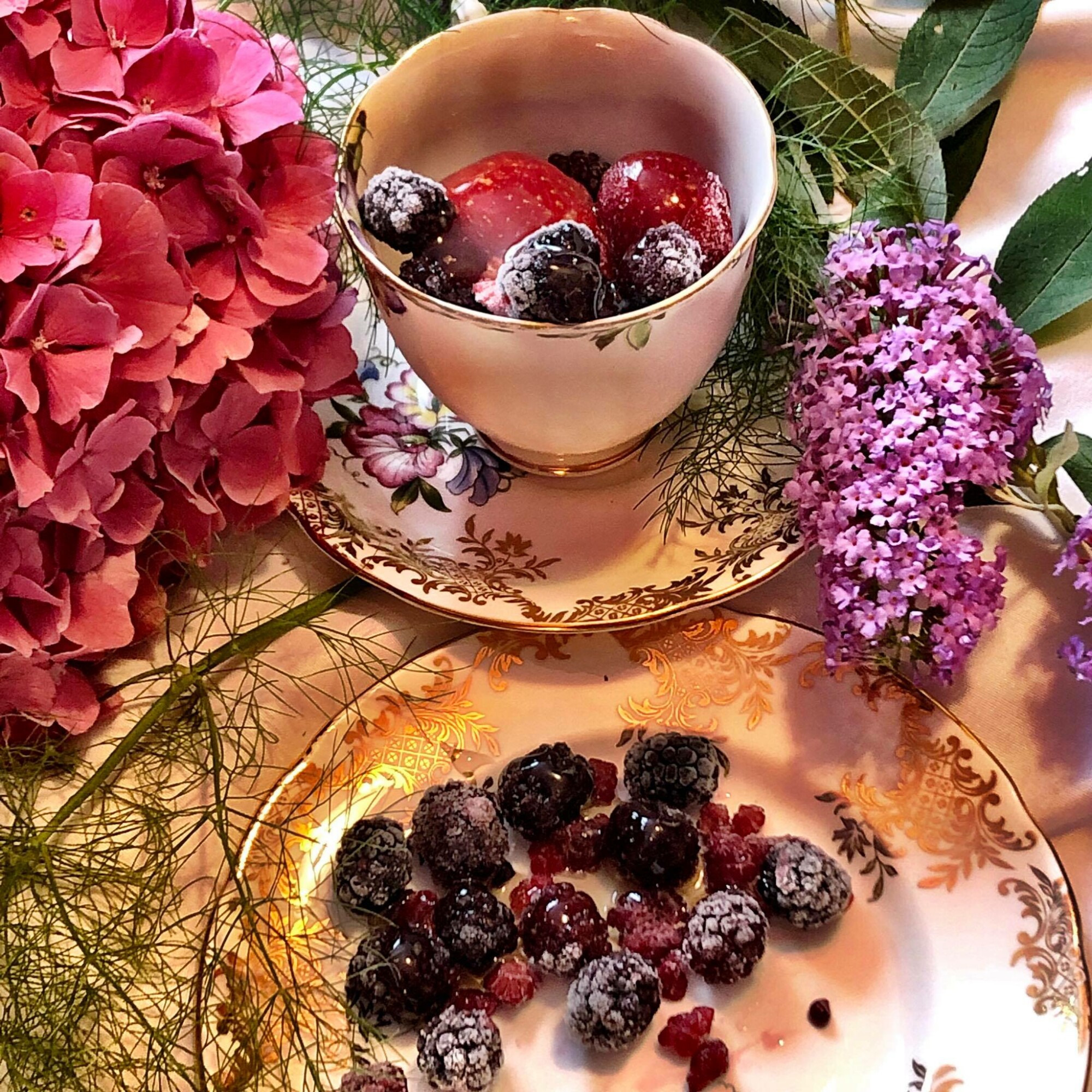 P.S. Here are some comments from visitors and clients:
"
I love your home. Its a treasure chest and a secret garden all mixed together

"
"This place, especially your therapy studio,
*
The Healing Space*
is like a nurturing womb to restore mind body and spirit ... and it's everywhere, even in the kitchen and the bathroom!"
"There is a healing tranquillity here, soothing and nurturing. I know I can use zoom calls for our coaching sessions, but, as I live in London, I'd rather come here. The ambience is incredible, greeted by diffused oils and relaxing aromas. even though the place is packed with books, memorabilia, etc. it feels like a secret oasis. Magical!"