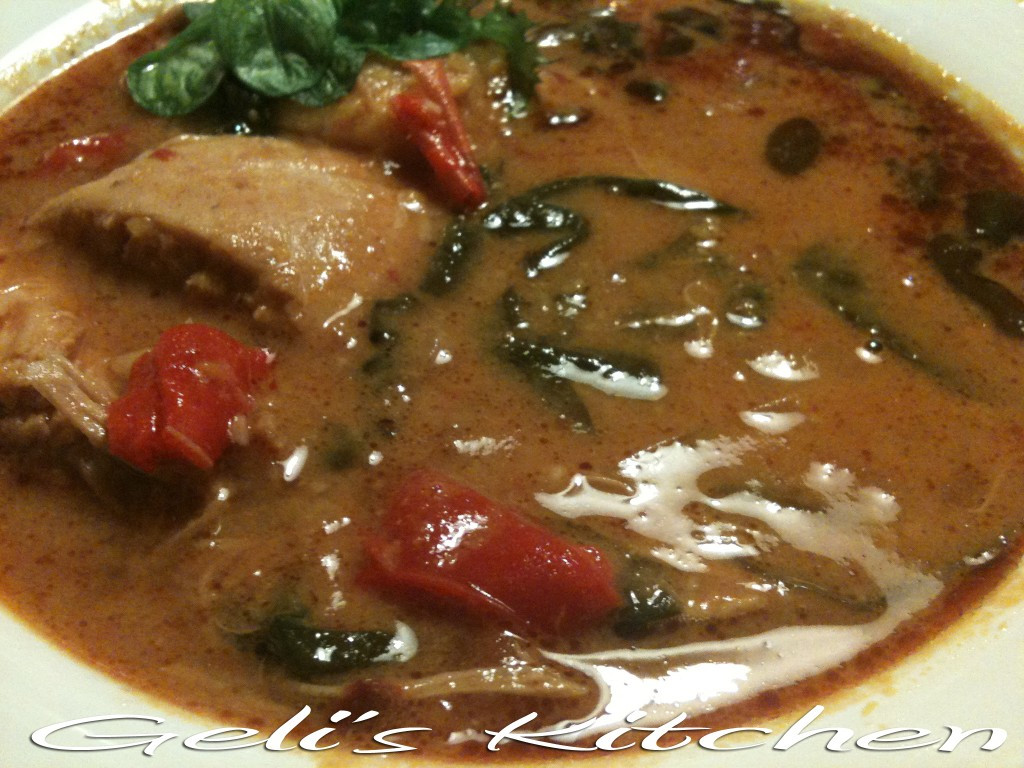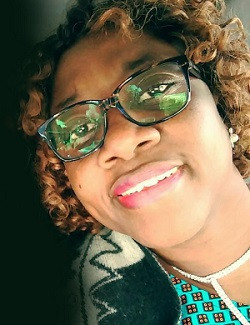 This recipe originally was given to me by my Ghanaian friend, Patricia, but I needed to tweak it to suit my taste buds (read: add more chillies and give it more oompf!!). My dear friend still thinks she should tone down the spiciness for her Caucasian food lover … not so, please! I prefer a wild taste bud party with fire!
I have also discovered that this dish is ideally suited for a large slow cooker and cooked for best part of a day on a low heat. That way the chilli spiciness is not harsh but mellows in beautifully and allowing all the flavours to mature and blend nicely.
If you're up for an unusual peanut soup with chicken or any poultry, here is the recipe: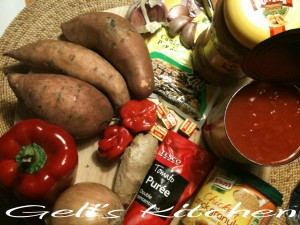 Chicken or any poultry of your choice
medium large piece of fresh root ginger aprox 8cm long – sliced and roughly chopped
2 or more chillies – Schottish bonnet with seeds
3 Tablespoons of Sambal Oelek (optional)
1 Tablespoon ground cumin
2-3 Tablespoon red wine vinegar
Tomato puree – nearly one tube
1 tin of chopped tomatoes
Peanut butter – the equivalent of about 1 large jar – half crunchy half smooth peanut butter
peeled and cubed sweet potato
chicken broth – stock cubes
spinach or curly kale with the thick hard stems cut out (I used spinach)
water enough for a soupy consistency. You might need to add some more during the long cooking / simmering process.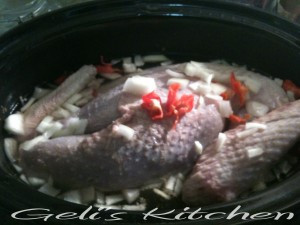 I used a very large slow cooker, added the poultry (I happened to have half of a turkey) water, stock cubes, ginger, onions, chillies and cumin.
Cook this until the poultry is done enough to take the meat off the bones, and discard the bones.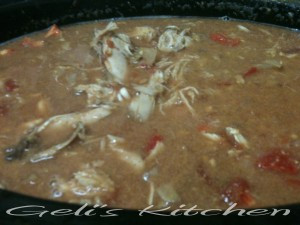 Once you've taken the meat off the bones, add all the rest of the ingredients except the spinach and water as needed.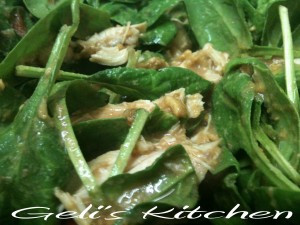 After about 4 1/2 hours of cooking I added the spinach plus some more tomato puree. As you can see on the picture, the soup was looking rather pale still at that point.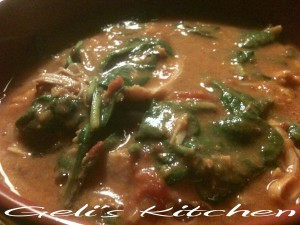 After the soup had been simmering for about over 5 hours in the slow cooker, we all were very hungry. It was cooked through ok and it was enjoyable, so we dished out and ate.
However, I left the slowcooker on and after a further eight hours simmering it really had become amazingly delicious. The soup had lost its peanut buttery flavour and texture, was less harsh re the spices (OK, I did put additional Sambal Oelek into it) and had developed into a mellow all rounded spiciness with plesant heat without the raw fire.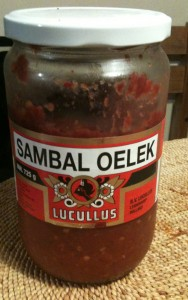 My favourite Sambal Oelek! I always have a large jar in the fridge ….
I probably have a Sambal Oelek addiction …..
the first photo of the soup in the white dish at the top was taken after the additional loooooong cooking time.