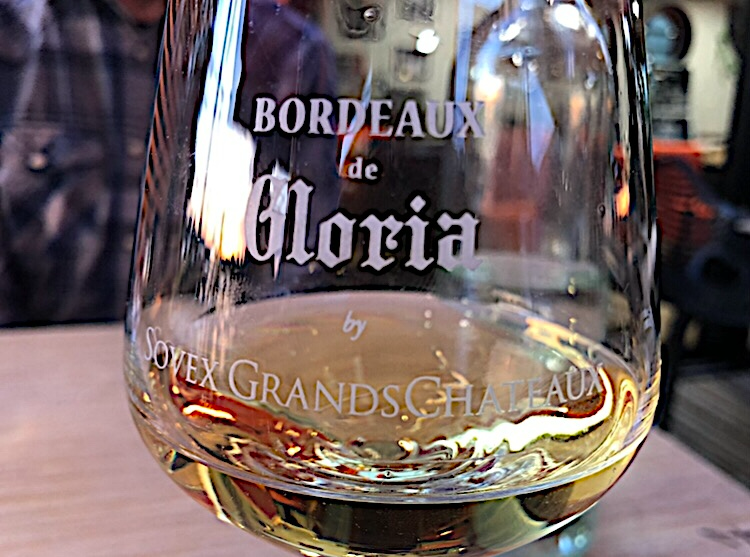 Enjoying a glass of this delectable aromatic golden nectar at the end of todays drive.
Rather than heading for Bordeaux itself, it was more prudent to avoid the city because of the so-called "Crit'Air" clean air stickers. The 'clean air' windscreen stickers are a legal requirement in France in some of cities (Bordeaux being one of them).
These identify a vehicle's emissions levels and, in some cases, restrict access in order to improve air quality. With my trusty little car being hybrid, it would have been no problems, except you do have to have the relevant stickers, which are colour coded, stuck on the windscreen.
I came across this legal requirement too late before departure, so a last minute change of hotels and driving route was necessary. However, was I ever happy to cruise through the charming French country roads through the world famous wine region?! Oh, yes!!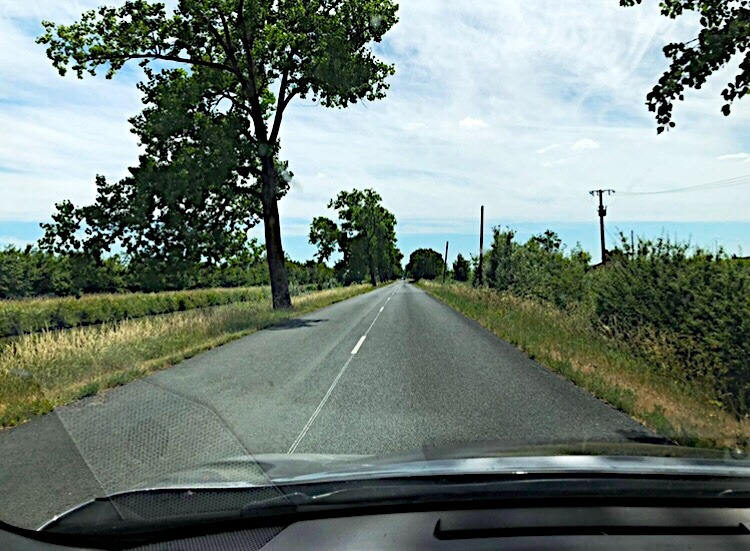 More often than not, the French roads here in this region are straight, straight, straight. For some, this might be boring, for local French drivers living there and coming up behind an English car driving ever so slowly (me), it might have been frustrating or a challenge to quickly overtake this foreigner. Oh well, I was way too busy admiring the landscape and the vineyards expanding in every direction (plus taking pictures from within a moving car, of course!).
The vineyards around Saint-Émilion date back to Roman times, and today the Saint-Émilion wine appellation is one of the most prolific in the Bordeaux region, generating more than 250,000hl of wine each vintage. It is also responsible for some of the most prestigious, long-lived and expensive wines in the world. The Saint-Émilion appellation is part of the Libournais region of Bordeaux.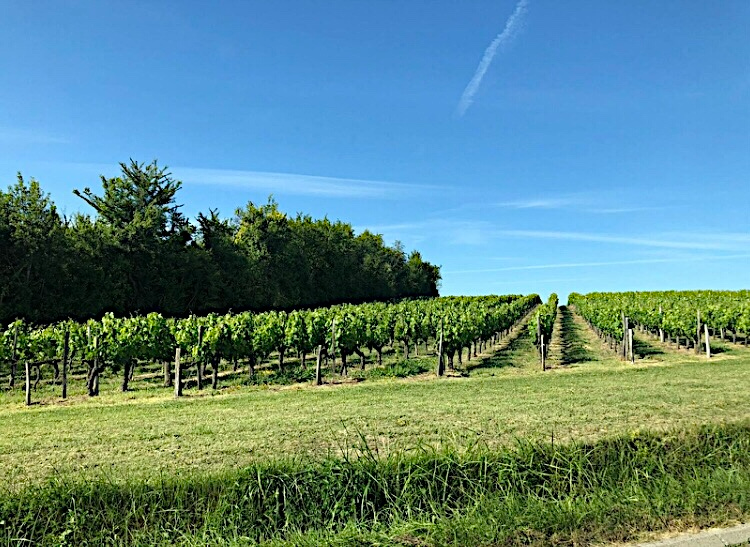 Saint-Émilion wines are predominantly made from Merlot and Cabernet Franc. The other traditional Bordeaux varieties (Cabernet Sauvignon, Carmenere, Petit Verdot and Malbec) are permitted for use here, but are rarely used to any significant extent. This is not so much a question of taste and style as one of terroir, diverse with its soils ranging from limestone plateaus to sandy slopes, clay and chalk rich soils.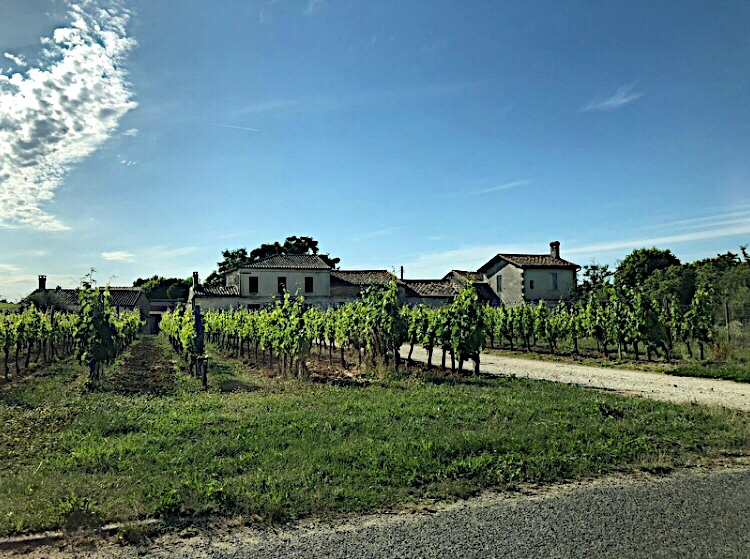 Wherever the eye wanders, there are vineyards. Having grown up in the German Rhine wine region, the Rheingau, this was a sight of pure bliss, mingled with childhood memories.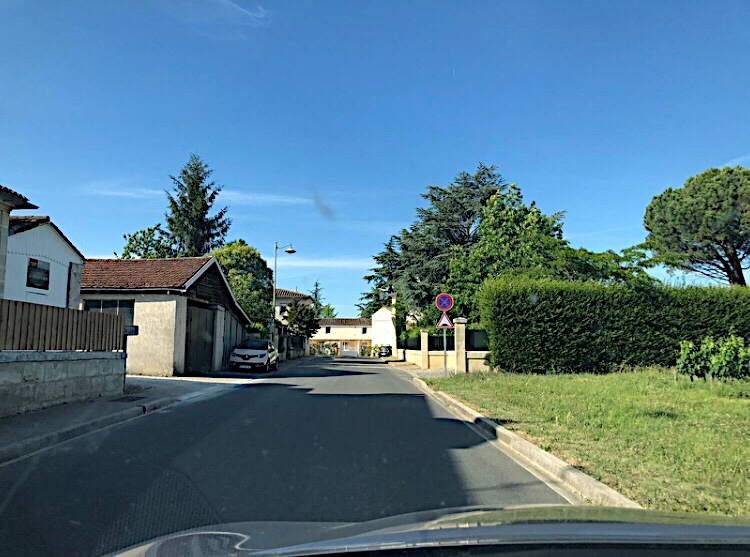 As I was not racing through this sun drenched country, soaking up the delightful green leafy vistas, I was quite glad to legally slow down even more, driving through sleepy wine villages and towns along the route.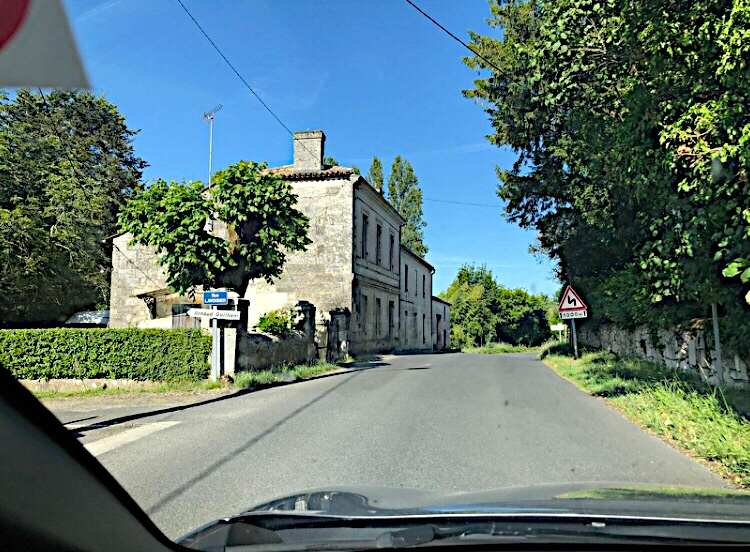 At times it felt like time had stood still for centuries. Such a delight to find areas virtually untouched by the current craze of modernising towns with high-rise buildings. Loving traditional buildings and family community based villages, organically grown, was like a healing balm for me coming from big city living in London.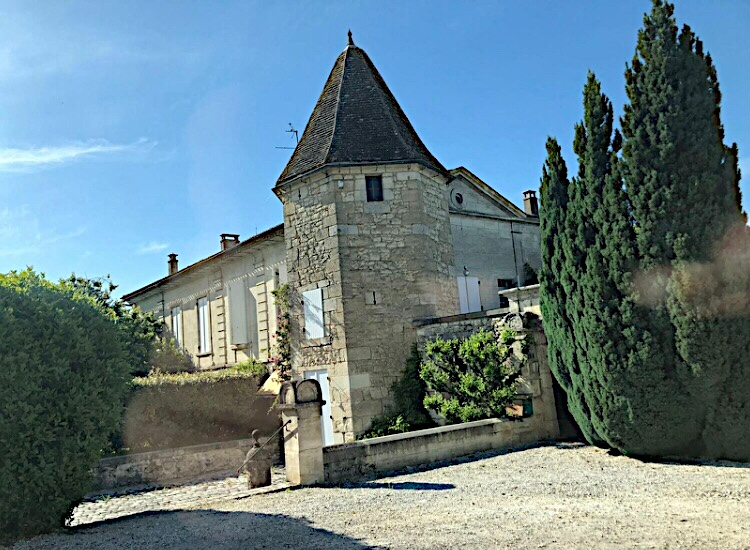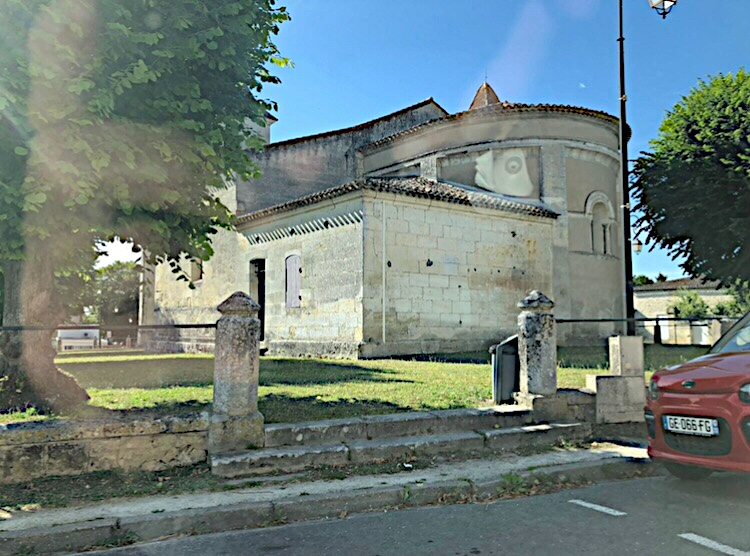 Suffice it to say, I would have liked to take way more pictures of these delightful sleepy provincial towns and traditional villages, however it was my aim to reach tonight's hotel before sunset, so I pressed on.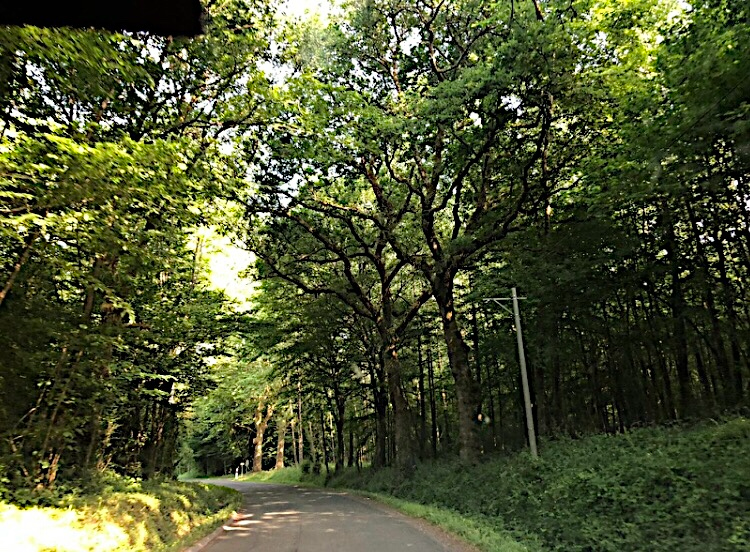 Often the roads leaving the villages and towns led through lightly forested areas, creating leafy perpendicular archways with sunlight streaming through the filigree of branches.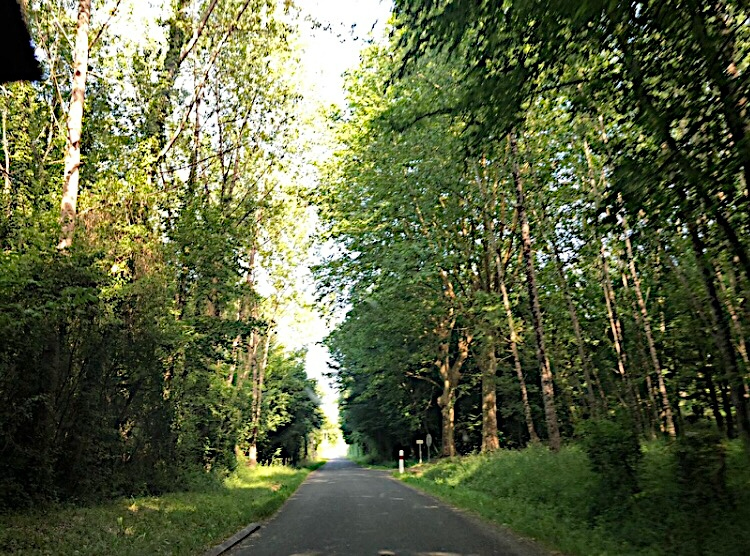 However, the vineyards and the straight roads were back soon enough beyond the trees.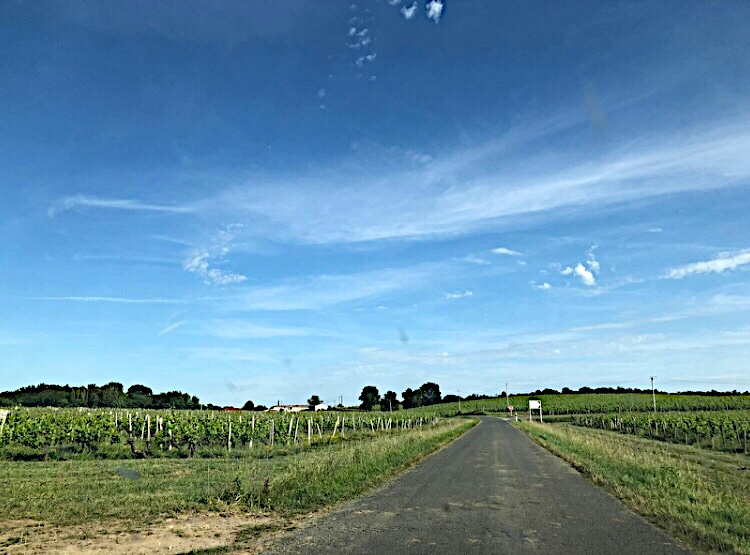 Soon, the end of today's travelling was reached, still in sunlight! After checking into the hotel it was time to walk over to get some well deserved French cuisine evening meal.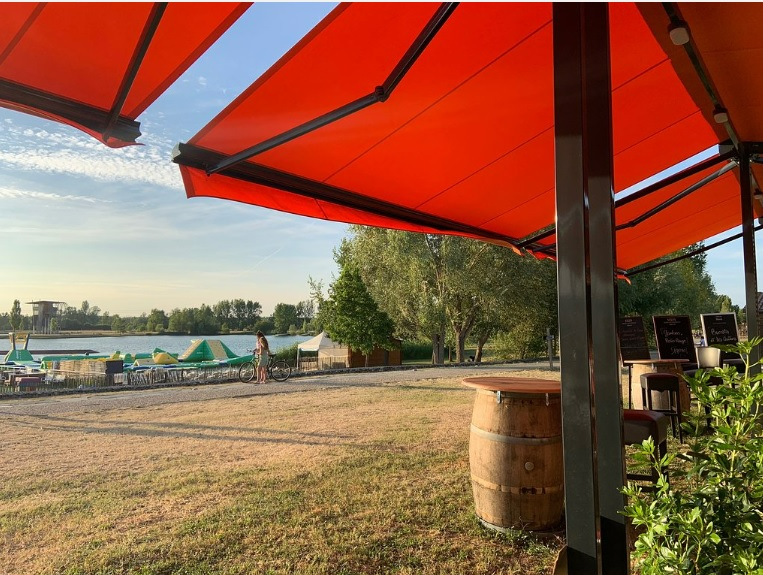 Right at a delightful lake was the Grand Café du Lac. Although the evening temperature dipped significantly from the 24'C daytime, it was well worth finding a table on the terrace and dine al fresco.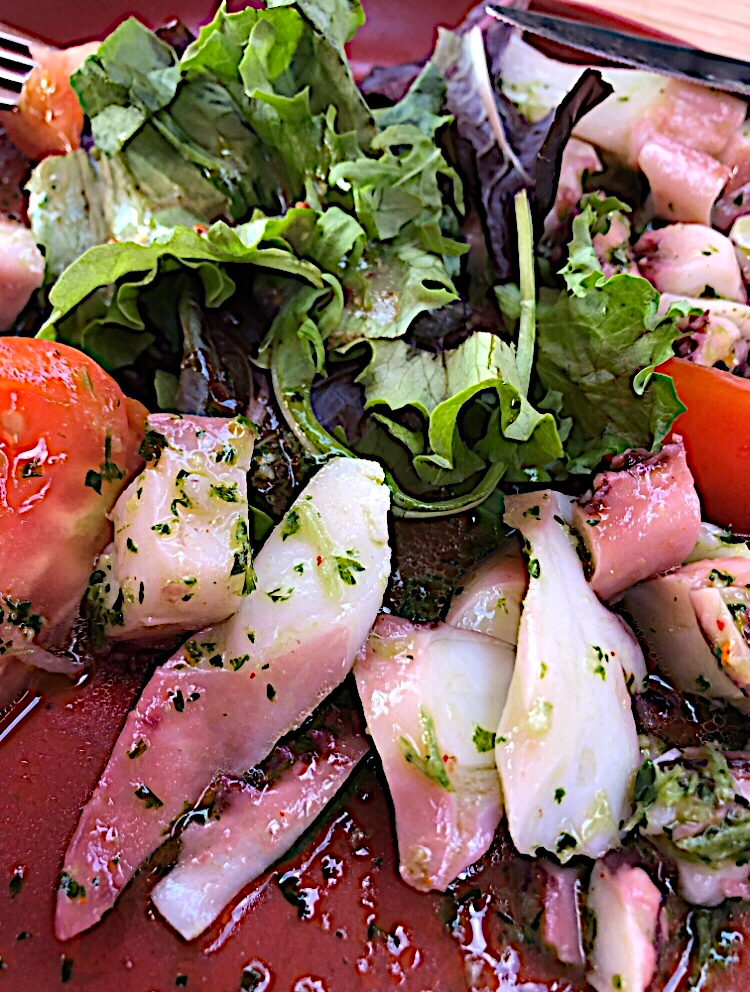 My starter was marinated octopus salad. As my French is still sadly lacking, a couple sitting at a nearby table noticed I was struggling, even with the Google translate app. So, kindly they jumped in and helped with the selection of the dishes.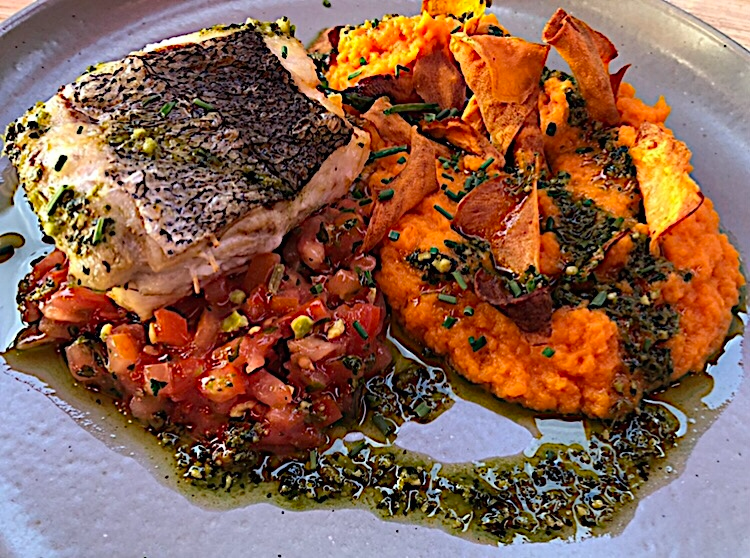 The salmon on a bed of roasted mixed vegetables, accompanied by creamed sweet potatoes drizzled with a fresh coriander sauce was superb! The picture of the wine above that went with it, is featured at the top of this blog post.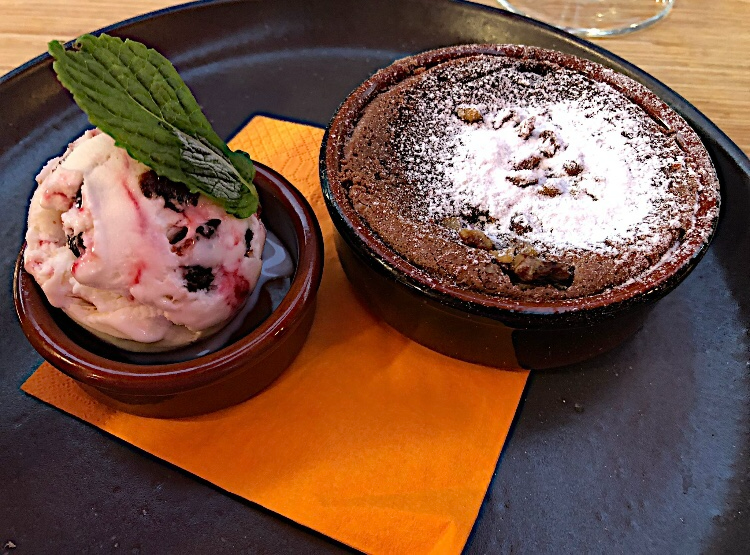 The meal was crowned with cranberry and raspberry ice cream accompanied with molten chocolate fondant …. Let me just say, I love the French cuisine !!!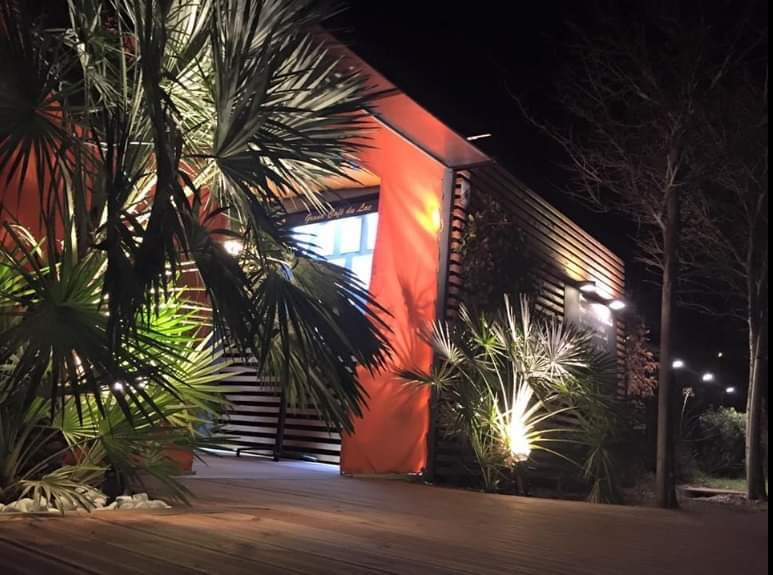 After a thoroughly enjoyable evening with superb wine and dinner at the Grand Café du Lac, it's time to retire into bed in the hotel.
Tomorrow will continue with day three of the French odyssey.